(Advance to the next track by clicking the arrows)
Times Lie – Chick Corea/arr. Ramon Ricker
Soloists: David Milne, soprano saxophone; Cary Brague, baritone saxophone; Jerry Bergonzi, tenor saxophone; Brian Benson, bass
Viper Cipher – Ramon Ricker
soloists: Jerry Bergonzi, tenor saxophone; Mark Flugge, piano; Chris Gray, drums
Gaviota – Clare Fischer/arr. Dirk Fischer/orch. Ramon Ricker
soloists: Ramon Ricker, soprano saxophone; Brian Benson, bass
Blues and the Abstract Truth – Oliver Nelson/arr. Ramon Ricker
soloists: Bob Mintzer, tenor saxophone; Damon Zick, baritone saxophone; Matt Aiken, drums
Jazz Sonata: I. Introduction and Allegro (danse macabre) – Ramon Ricker
Ramon Ricker, soprano saxophone; Bill Dobbins, piano
Jazz Sonata: II. Ballad (danse d'amour) – Ramon Ricker
Ramon Ricker, soprano saxophone; Bill Dobbins, piano
Jazz Sonata: III. Allegro—Waltz—Allegro (danse infernale) – Ramon Ricker
Ramon Ricker, soprano saxophone; Bill Dobbins, piano
Three Jazz settings for Saxophone Quartet: I. Introduction and Allegro (danse macabre) – Ramon Ricker
Ramon Ricker, soprano saxophone; Mike Sakash, alto saxophone; Jim Doser, tenor saxophone; Nancy Boone, baritone saxophone
Three Jazz settings for Saxophone Quartet: II. Soft Shadows of the Night – Ramon Ricker
Ramon Ricker, soprano saxophone; Mike Sakash, alto saxophone; Jim Doser, tenor saxophone; Nancy Boone, baritone saxophone
Three Jazz settings for Saxophone Quartet: III. Trance Dance – Ramon Ricker
Ramon Ricker, soprano saxophone; Mike Sakash, alto saxophone; Jim Doser, tenor saxophone; Nancy Boone, baritone saxophone
Jerry Garcia Symphonic Celebration
Jerry Garcia Symphonic Celebration w/ Warren Haynes 8/4/16 - Russian Lullaby. Ray's solo is at 2:10.
TEDx Rochester
In the spirit of ideas worth spreading, TEDx is a program of local, self-organized events that bring people together to share a TED-like experience. At a TEDx event, TEDTalks video and live speakers combine to spark deep discussion and connection in a small group. These local, self-organized events are branded TEDx, where x = independently organized TED event.
Buddy Rich: At The Top
Time Check recorded at The Top of the Plaza in Rochester, NY
on February 6, 1973. Ray is playing second alto. He's the thin guy with the long hair.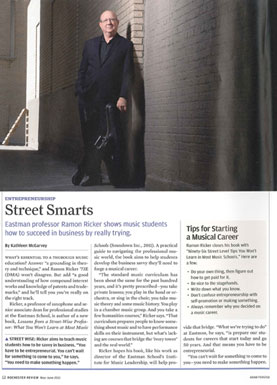 Rochester In Review
Street Smart
Eastman professor Ramon Ricker shows music students how to succeed in business by really trying.
By Kathleen McGarvey
What's essential to a thorough music education? Answer "a grounding in theory and technique," and Ramon Ricker '73E (DMA) won't disagree. But add "a good understanding of how compound interest works and knowledge of patents and trademarks," and he'll tell you you're really on the right track.
Click here to read this article
Democrat & Chronicle
Savvy needed to make a living in music
November 20, 2011
By Matthew Daneman
The self-published book is essentially a 101 guide on the business of being a professional instrumentalist, covering everything from the basics of mechanical vs. print vs. performance rights to tips on avoiding being shafted on a recording or distribution contract. Certain things came out of that ... including the arts leadership program here at Eastman that has on average 25 course per year designed to bridge the ivory tower and real world.
Innovations - Fall 2011
Eastman professor writes book for aspiring music students
Center for Entrepreneurship - University of Rochester "Music is intoxicating," said Ramon Ricker '73E (DMA), a professor of saxophone and senior associate dean for professional studies at the Eastman School. "If you're good, you really get a high off of a great performance. You can't think of doing anything else."
Campus Times - University of Rochester
Eastman professor's book aids musicians
February 10, 2011
By Leah Buletti
Ramon Ricker gives musicians real world advice in his innovative book...
Inside Higher Ed
'Lessons From A Street-Wise Professor'
January 24, 2011
By David Moltz
Landing a job in today's economy is tough for most college graduates. For those seeking a career in the fine arts, it's even tougher.
Rochester Business Journal
Book teaches business skills to music students
December 30, 2010
By Nate Dougherty
Ramon Ricker is credited with fueling a national movement among music schools to teach entrepreneurial skills. Now the director of the Institute for Music Leadership at the Eastman School of Music has committed the tenets of that idea to print.